Who is Chris Pareja?
Personal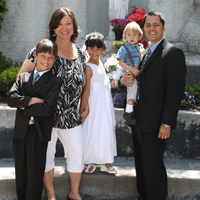 I have lived in the East Bay most of my life. East Bay cities where I have lived include Richmond, Hayward, San Leandro, Castro Valley, Fremont, Pleasanton and Livermore.
I don't believe in assessing people based on race, and I guess my ancestors felt the same way. I am an ethnic melting pot. My genetic composition includes ingredients from the Philippines, Spain, Portugal, Scotland, Ireland, France, England, and there may be others I don't know about.
My wife and I were married 16 years ago and have three children – ages 11, 9 and 3 years old. We currently live in Hayward.
I am guided by my faith as a practicing Catholic, but I don't agree with all of the church's opinions. I will fight to protect our rights to worship (or not worship) as we individually see fit.

Business
My current businesses include B2B Power Exchange and LeadGenaires. They are both focused on making it easier for businesses to find and close new business opportunities – generating more money for themselves and the communities where they operate. Both ventures also help me keep my fingers on the pulse of the business community – not only locally, but also nationally and internationally.
Both of my ventures (and all that I involve myself with) are designed to create an environment where people who want to work hard and take educated risks can work together to succeed. I have always believed that people can accomplish more working as a team with a common goal. I have made my living helping people build relationships and pool resources for their mutual successes. I think Washington DC will benefit from this type of collaborative thinking.
Former roles include several marketing, sales and management roles at small and large companies as an employee or consultant. Learn more at http://www.linkedin.com/in/chrispareja
Why politics?
I don't want to be a career politician. I had no intention of going into politics until a few years ago. At that point, I was content as a casual observer and complainer. I saw plenty to be angry about while watching politics over the last decade, but was fine being on the sidelines.
Then the health care debate began. I heard pros and cons from both sides of the political spectrum about the bill working its way through Congress in the early part of 2009. I opted not to take either side's word for what was in the bill. I decided to start reading it for myself.
Reading what was ACTUALLY in the bill ended my ability to stay quietly on the sidelines. I saw too many injections of government into the daily lives of citizens. I had to begin to speak out.
As I began to talk to others about what was in the bill, I discovered they were concerned, too. Emotions ran high, but politicians ignored the emotions of the people. I began to see that politicians would blatantly ignore the will of the people, would pass bills that would jeopardize the wellbeing of the economy and the citizenry – without reading the finished bills!
Then, I saw the process. I couldn't believe the backroom deals being paid for with hundreds of millions of tax payer dollars. I couldn't stand that every time the health care bill moved forward, it was in the middle of the night on a weekend. There were the parliamentary tricks that were being attempted – as millions of people across the country protested the way this was all being done.
Republicans, Democrats and Independents have all told me they are angry about the way legislation is being passed. They are tired of being taxed without their consent for reasons they don't support. They agree health care, finance, economic and other types of reform need to occur, but they don't agree with being left out of the process. They are frustrated and want something done about it.
I agree with them. The time for yelling at the TV, radio, newspaper, computer, iPhone or whatever tool we use to get our news is over. The time has come for action. Local action has not caused Washington to listen. It is time for action within Washington. I want to be part of the effort to make real changes in Washington politics.
Odds are stacked heavily against a non-partisan candidate winning a national election. But, if I can win, it will send notice to state and national politicians across the country that people are ready to return to representative government, and results are more important than party affiliations. It will also let other "regular people" know they can make a difference and they can take a leading role in returning control of our government to the governed.