Who is Chris Pareja?
Personal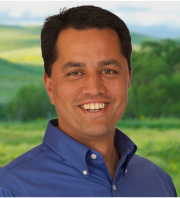 I have lived in the East Bay most of my life, and since my wife and I were married 19 years ago, we have chosen to spend the most years in Livermore. She started teaching in Livermore more than 20 years ago, and our children ages 14, 12 and 6 have only attended schools in Livermore. We have watched Livermore evolve over the years and have always enjoyed being part of the community and the assets it provides. I am personally committed to protecting and improving those resources.
Business
I have always been entrepreneurial. My career has always been focused on levelling the playing field for small and mid-sized businesses with great ideas and ethical business practices. My career has included consulting; sales and marketing; building collaborative networks of entrepreneurs, sales people and consultants; and I have recently taken on the role of CEO of a 2 ½ year old start-up named FlypList. We are building that business at Livermore's own i-Gate Technology Hub.
All of my ventures have focused on making it easier for businesses to find and close new business opportunities – generating more money for themselves and the communities where they operate. They also help me keep my fingers on the pulse of the business community – not only locally, but also nationally and internationally.
Learn more at http://www.linkedin.com/in/chrispareja
Political
I became involved in politics several years ago during the healthcare debates. I started by speaking out at town hall meetings and when I felt the citizen's concerns were falling on deaf ears, decided to run for U.S. House of Representatives. With less than 10% of the resources available to me that my competitors brought to bear, I received nearly 22% of the vote.
During that campaign, I began to hear many concerns from citizens about issues that were much more local. I heard about property rights being violated, taxes being raised for political as opposed to practical reasons, nonsensical rezoning and communities being transformed to the dismay of the inhabitants of those neighborhoods being impacted. I continued to speak alongside and build alliances amongst these groups and have been actively involved in building coalitions from across the political spectrum to right these wrongs or protect citizens from these initiatives harming communities in the first place.
I have brought together groups that have included Progressive Environmentalists working alongside Tea Partiers to address issues like Plan Bay Area, Measure B1 and Measure BB. I believe it is in everyone's best interest to understand all sides of an issue and encourage people to move past their perceived political identities and engage one another as humans. When we do this, we find out we have a lot more in common than divides us. We will agree about problems 70-90% of the time. Our solutions for solving the problems may differ, but progress starts with finding common ground.
My political aspirations led me to an opportunity to host a community access TV show in the South Bay called the Right Side. We are finishing up the third season and I take pride in the fact that half the crew describes themselves as liberal, and the other half as conservative. While the show "covers todays news, views and perspectives from an admittedly conservative perspective," guests and topics are from across the political spectrum. The show proves that when we speak as humans, we often agree about the importance of things such as education, corruption, property rights and other topics that impact us all. Guests have included Steve Forbes, Sheriff Joe Arpaio, John Fund, Bill Whittle, Michael Ramirez, Senator Jim DeMint, Robert Spencer and other locally and nationally known guests. More info can be found at http://theconservativeforum.com/the-right-side.htm.