What Area is Included in CA-15?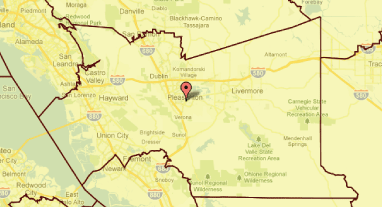 California's 15th Congressional District (CA-15) includes all or parts of Livermore, Pleasanton, Sunol, Dublin, San Ramon, Castro Valley, San Lorenzo, Cherryland, Hayward, Union City, San Leandro, Fremont, Danville, Byron, Tracy and Oakland. If you want to know if you are in the district, click here: http://swdb.berkeley.edu/gis/gis2011/
According to information generated after the new re-districting, 702,904 people live in the district.
The population is approximately 37.47% White, 27.29% Asian, 23.4% Hispanic and 6.83% Black.
Voter registration:
48.5% Democrats
22.5% "Declined to State"
23.9% Republicans
5.1% Other
Email me with your thoughts at chris@chrispareja.com.